German Forest Attack
1st Game w/Battlegroup Panzergrenadier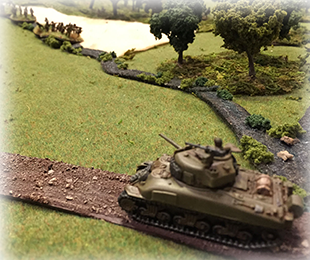 Yes, we can't seem to settle one one set of rules for WW2, or for that matter, one scale either! This night it was back to 15mm for our first playtest of Battlegroup Panzergrenadier. The scenario was set in 1944 with the Germans launching an infantry heavy attack with armor support into a forested area defended by units of the American army. Naturally, having never played before it did take a few turns for everyone to understand what was going on, but after that things picked up. The Germans moved up quickly and attacked all across the front line, with the American left getting especially hard hit. Here the Germans committed a platoon of Jgpz IVs to the attack, but the American units held firm for quite some time, despite being outgunned.
On the American right the Germans moved a company of infantry along a stream which enabled them to move quickly without any casualties, then launch an attack that at first looked as if it would swamp the American defenders in that sector.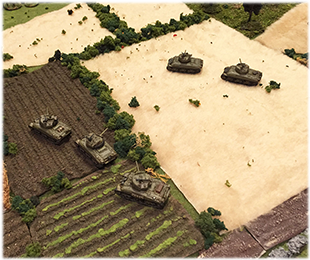 The Americans, however, held firm, despite quite a few casualties. When the game was called due to the lateness of the hour, the Americans just received two platoons of Shermans which were racing to the front. To be continued....
The Friday Night Update is sponsored by Trenchworx.