Age of Eagles 1813 Battle Pt.2
Alternative Liebertwolkwitz Pt. 2
This was the second half of the battle that we began on the previous update, which was a re-fight of Liebertwolkwitz, but one where the infantry that was in the area of the historical battle actually came to grips with one another. For most of the night the Russians and Prussians tried to get their advantage in numbers to where it would do some good, but were blocked by the French artillery and numerous traffic jams. There were several cavalry charges and countercharges which saw the French and Poles pushed back onto their supports, but the decisive blow never came for the Allied forces.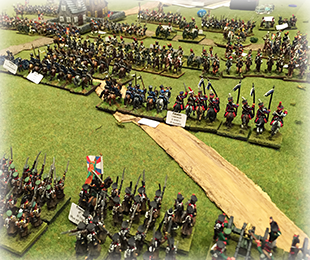 Each time the Russians would surge forth and it looked like a breakthrough was finally happening, the French would counterattack to restore the situation. When the time came for the Austrians to come on we had a decision to make. Go through the steps to organize, label, and bring on the Austrians or call the game. With time running out in the evening and the Russians nowhere near where they should be, the game was called as a French victory. While it was an exciting and beautiful looking game, we needed more players, better organization during the set up, and most importantly, more playing time. We easily could have fielded up to eight players and with only four of us, it was a challenge. We're already determined to try this one again in the future.
The Friday Night Update is sponsored by Trenchworx.