Annual Warmaster Tournament
8th Annual WMA Club Tournament Pt. I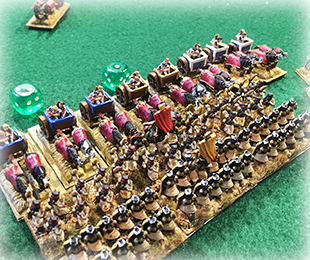 One of the most fun events that we do each year is our annual WMA tournament, which is now in its 8th year. We're always able to scrape up at least four participants, which then allows us to play three games to determine the club champion plus the Master of Mayhem award to the player who causes the most casualties. This year we went with 1,000 points plus a free general and then the units generated by your three starting territories. While not a huge force, the games were a bit longer than last year, so we'll need one more night to finish round three and crown a champion.
This year there were some interesting choices of armies, which included Indians (I'm bound and determined to make them win some year!), Romans, Hittites, and Teutonic Knights.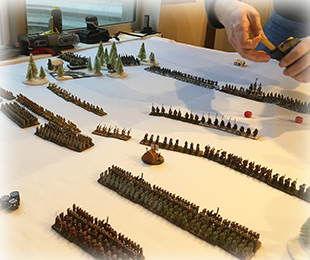 In some of the images above you can see that some of the games appear to be on a bright desert mat, but it's actually snow that Rob is working on for his Teutonic Knight games! The first few games were a lot of fun and saw the Teutonic Knights and Hittites vanquish their foes in the first games. The Hittities in particular were pretty nasty and have inflicted an astounding number of casualties in just two rounds.
The Friday Night Update is sponsored by Trenchworx.