WMA: New Seleucid Army Wins
Seleucids Go WIth An Infantry Heavy Army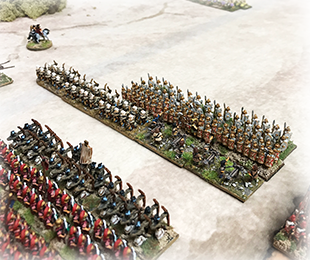 After numerous battles with the Romans where the Seleucid success was 50/50 and trying to keep track of all the bizarre units and stats that usually make up a Seleucid army, it was time for a change. Going with only four cavalry units, the Seleucid army this time featured a lot of pike units, Imitation Romans, thorakites, Galatians, artilley, archers, and light infantry. Things didn't start out well, with two brigades of Roman legions getting successive orders and crashing into the flanks of the Seleucid pike as well as destroying the artillery! In fact, for a turn or two it looked as if it would be an early night! The Seleucids, however, rallied, then proceeded to grind down the Romans unit by unit.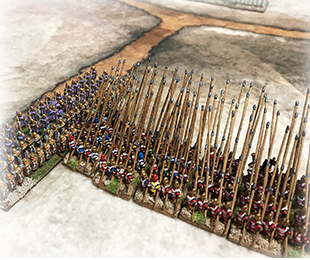 There were many desperate charges, some miarculous saving rolls by both sides, and a ton of carnage. After about 6 turns both armies had suffered big losses and the Romans pressed for one more counterattack to change their fortunes. However, this came up just short, which left the Seleucids in charge of the field when the Roman army hit its break point. So far, this is a pretty good Seleucid list and now the next test is to go up against the Indian hordes on a future gaming night.
The Friday Night Update is sponsored by Trenchworx.