BKC IV: Second Try
British Bridgehead Expansion
This was our second try with the new Blitzkrieg Commander 4 rules and we decided to have a British force try to expand its bridgehead into a German held area. A small British force was already in a good position on a series of hillls overlooking the river valley. The captured bridge, however, was damaged and could only take a few units per turn, so it was going to be a challenge for the British to get a large force across the river and take their objectives before more German forces arrived. The Germans decided not to wait for reinforcements and counterattacked immediately! This set off a running (and desperate) battle along the hill ridgeline for several turns. In the end the British held the hills, but their attacks had been thrown into confusion and they were behind schedule. The British did get a sizable force across the river and began working their way around the German flank.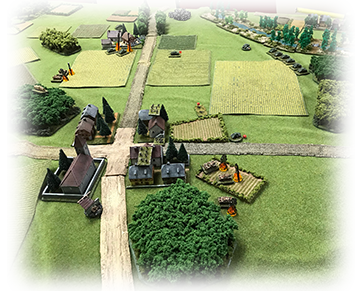 As more German forces arrived a series of battles erupted across the tabletop, with numerous vehicles burning in and around the villages. The British were finally able to overcome most of the attacking German armor, but by that time the German panzergrenadier force had made its way into the village crossroads and the game ended in a draw.

The Friday Night Update is sponsored by Trenchworx.