Renaissance Encounter 1525
Swiss Pike & French Gendarmes Attack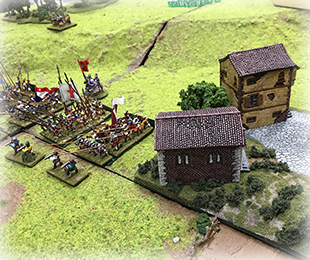 This is our first update in a few months due to fluctuations in everyone's schedules. Tonight it was back to the Renaissance era where France is once again trying to annex Northern Italy. The Imperialists seemed plagued by the turn sequence all night including the setup roll. The Swiss went up against the poorer Spanish and Italian pike while the French heavy cavalry barrelled down the center, virtually unopposed. After the first few turns the Imperialist army had been split in two, but the German pike began to attack the French left and was making serious headway, plus they intervened in the cavalry battle going on in the center by firing on the French cavalry units, inflicting serious damage.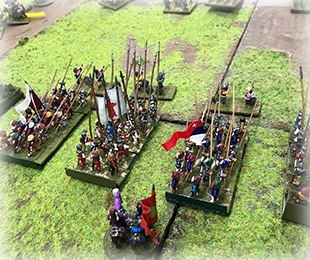 The light troops of both sides took a beating and one of the Imperialist artillery batteries blew up, which didn't help matters for their side. When the game was called (we got a late start and the store had to close in 15 minutes) the Imperialist side thought they had lost, but the French conceded that the issue was still in doubt. Next time we need to start earlier and some unit cards for both sides would definitely help out a bit, especially as we don't seem to play this as much as we would like.
The Friday Night Update is sponsored by Trenchworx.