WMA: Seleucid Victory!
Close Battle Between Romans and Seleucids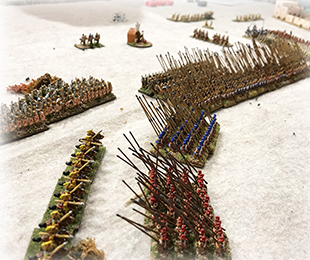 Although we've had several battles between the Imperial Romans and the Seleucids (sorry, no Republican Romans just yet), the Seleucids have never faired well against them, eking out a victory here and there, but usually on the final turn or on a critical roll of the dice. For this battle we added some rough terrain to liven things up a bit and the Seleucids went with their "heavy" lineup, featuring two units of elephants, cataphracts, and Thorakites while the Romans went with their basic list. At first it looked like the Seleucids would lose with some really bad command rolls and virtually no saves in their first few combats,. but then things turned around quickly. The Seleucids could do no wrong and several critical charges went their way.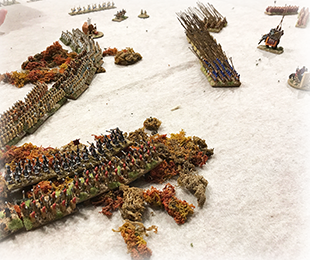 All of a sudden one of the Roman flanks was in a shambles and the other could get no traction, leaving the remaining forces to cluster in a wall formation near the center. The Seleucids continued the attack, keeping up pressure all along the lines and grinding the Romans down. In the end it was a Seleucid victory and closer than it looked.

The Friday Night Update is sponsored by Trenchworx.