Russian Armored Attack Pt. 2
Battlegroup Panzergrenadier in 1/285th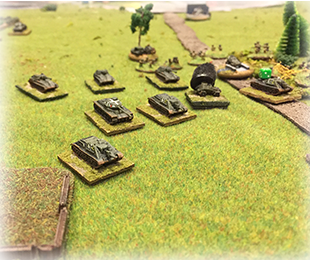 We continued the battle from the previous time as the Russians were making some headway against the German defenses. Both sides had horrific rolls for artillery and air support, which greatly affected the outcome. The German Stugs on the hill in front of the river continued to dish out punishment, holding that hill against everything the Russians could throw against them. In the town there were a series of exciting attacks and counterattacks, with possession of several sections changing hands at least twice. Meanwhile, the Panthers and the T-34/85s continued their long range duel.
The Russians had several opportunities to make a breakthrough, but could never quite get everything to activate at the same time and the German opportunity fire kept wrecking their advances.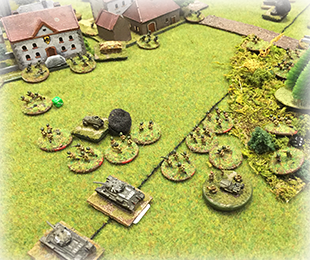 The Russians did take most of the town, but the casualty levels were extremely high and the Germans still had some reserves, which were put to good use in a counterattack to stabilize the situation. In the end the losses were too much for the Russians and the Germans survived with a tactical victory. A well fought game that featured tank duels, infantry assaults, heroic defenses, and Russian hordes!
The Friday Night Update is sponsored by Trenchworx.