Russian Armored Attack Pt. 1
Battlegroup Panzergrenadier in 1/285th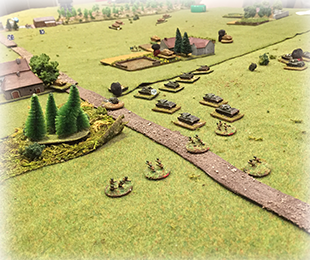 What started out as a project using 15mm figures and vehicles has now moved into trying this set of rules in 1/285th scale! It certainly allows for larger battles, which is exactly what we had for the first of a two night affair. The Russians are driving on a German position, but have faulty recon reports that says that there is a small village and clear terrain beyond. Actually, there is a quite sizeable town there in the middle of the board and a stream with only one crossing beyond, which greatly aided in the German defense set up. The Russians set up a two pronged attack, both which had powerful armored forces along with tank riding infantry.
At first nothing could go right for the Germans as a platoon of PZIVHs were quickly set afire and the Russian juggernaught rolled on. On the German left, however, a platoon of Stug IIIs forced the Russians to halt in their tracks and in effect created a large traffic jam in that area. The Russians on the German left then ran into a platoon of Panthers which was their misfortune.
The Russian attack came to a halt as they tried to maneuver sufficient armor units to overwhelm the Panthers. At the end of the first night the Germans are holding, but have lost several tanks and assualt guns. The Russians are reorganizing and getting ready for their final push.
The Friday Night Update is sponsored by Trenchworx.