TSATF: Anglo-Indian Attack
Bengal Lancers Moment of Glory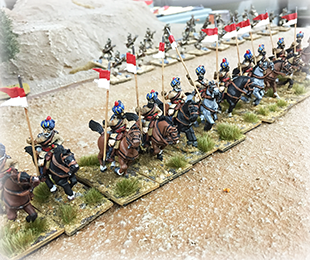 We decided to do a small game of TSATF and when setting out the forces, I decided to go with all native troops except for the British artillery battery and officers. The scenario was a punitive expedition against a Pathan clan where their leader was wounded and in a local village. The Anglo-Indian force would attack the walled structure guarding the pass, quickly move to secure the village, and arrest the leader. Naturally, the Pathans weren't just going to let this happen and summoned help from the local tribes. The Gurkhas led the attack and despite a slow start, breached the walls of the large house near the pass, which caused the Pathans to flee! The rest of the Indian troops quickly moved around the end towards the village. They were greatly helped by an event card that let them move quickly over one of the larger hills.
The Pathans counterattacked, but at a critical moment in the game and the stuff of gaming legends, the squadron of Bengal Lancers formed up in range of the Pathans, took two rounds of fire with no casualties, then charged home, routing a Pathan unit and creating a hole in their defenses.
The rest of the Indian troops and British artillery poured fire into the Pathan masses who simply had everything go against them in this game. When the game was called due to time the Indians were getting ready to clear the village as the Pathans clearly had the worst of it up to that point.
The Friday Night Update is sponsored by Trenchworx.