WMA: Crusader's Last Gasp
A Final Crusader Offensive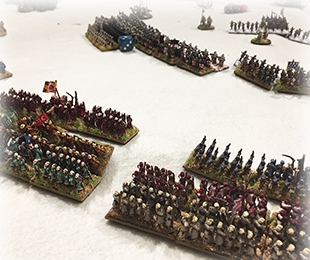 Another Crusades battle, this time a historical action with one of the last Crusader offensives before their eventual demise. The Crusader army had an Arab allied contingent, which made this an interesting fight, especially since they were outnumbered. The Arab forces, under two different commanders, spent most of the night trying to come to grips with the Crusader forces, but were being strung out by bad command rolls and Crusader counterattacks.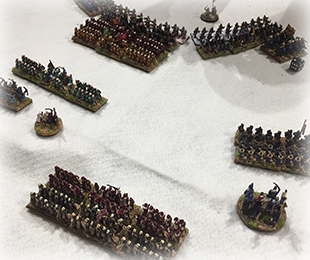 The Arab attack finally got going towards the end of the game, forcing the Crusaders into an ever shrinking circle for their defense. Although the Arab forces had a high break point, the Crusaders were causing some serious casualties and a few missteps might have resulted in disaster. In the end, however, the Arabs were able to cause sufficient casualties to berak the Crusader army and win the game. A pretty fast paced scenario with about 2,000 points for the Arab forces and 1500 for the Crusaders. Despite the point disparity the Crusaders are tough on defense and they were in the game until the final few turns.

The Friday Night Update is sponsored by Trenchworx.