TSATF: Prison Breakout!
Daring Plan Creates Havoc For Both Sides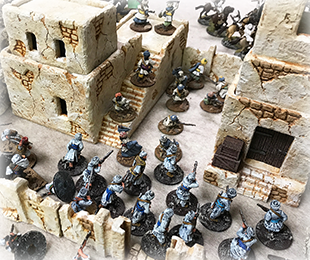 Back to the Northwest Frontier for another game of The Sword and the Flame, which despite it being one of our favorite things to play, only hits the table once or twice a year. The scenario involved some Pathans infiltrating a fort where a local tribal leader/holy man was being held in prison. More Pathans waited outside to help storm the entry to the pass, which was held by an Indian platoon, with even nmore Pathans waiting on the other side who would form the escort for the escaped leader. The game began with the Pathans escaping from the fort and the alarm being raised as British units piled out of their barracks and got ready for the pursuit. Meanwhile, two squadrons of Bengal Lancers were returning from patrol and ran right into the middle of a battle!
The Pathans stormed the fortified entrance to the pass and were repulsed on the first few attacks. Finally, with the help of the Pathans on the other side of the pass entrance they were able to wipe out the Indian infantry platoon and consolidate their gains.
However, they couldn't venture out as the Bengal Lancers were waiting outside to recapture the escaped leader. We had decided to use an event each turn (probably not the brightest idea!) and so the turns had snowstorms, thunderstorms, reinforcements for both sides, delays for the British, and more. Then there were a series of charges, counterattacks, and more events that resulted in massive melees and craziness. In the end the British could not get their infantry up in time and the lancers were dispersed, leaving a clear path for the Pathans to escape with their leader. Definitely another wild TSATF game that was a lot of fun for everyone!

The Friday Night Update is sponsored by Trenchworx.