General d'Armee: First Try Pt. 2
French & Allies hold back a Prussian attack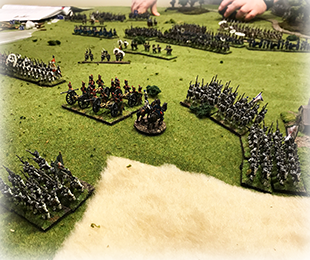 Continuing on from the scenario that we started the last time, we added another player and both sides had a chance to bring on their reserves, both of which never got into the action. The Prussian and French cavalry on the French right had multiple charges, countercharges, and attacks on squares that took up most of the evening, leaving the brigades of both sides seriously damaged and faltering. On the French left the two French Allied brigades did what they could against a pretty large Prussian attack, but first one, then the other brigade became fairly week and had to pulll back. The Prussians kept hammering the French left and eventually it broke, but they were unable to get their forces to exploit the hole that suddenly appeared in the defenses. In the center the French launched an attack with some very good legere units that at first had some success, then some very good rolls by the Prussians forces them back.that saw both sides exchange blows, but nothing decisive.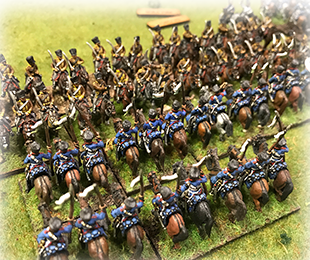 All of a sudden, things got pretty bleak for the French. The Prussian artillery hammered a Saxon battalion that was forced back, a French attack in the center was thrown back with serious losses, and several bad command rolls spelled the end of the French resistance. The game was called as a Prussian victory. A very fun scenario and I'll post pictures of the second night in the next issue of Warning Order.


The Friday Night Update is sponsored by Trenchworx.