Gettysburg 2nd Day Pt. 2
Longstreet's Attack Continues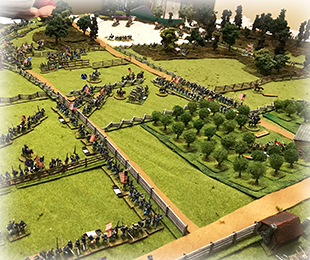 So this would be our second night playing Longstreet's attack at Gettysburg on the 2nd day. Steve went out and made some actual orchards to replace the regular trees we used on the first night! The Confederate attack continued through most of the night, achieving some success, but also getting several units chewed up in the process. In fact, by Turn 10 or so the entire center was pretty much devoid of life after a series of firefights, charges, routs, and more! The issue was that the Confederates just could not get up enough steam to decisively plow through the center and end the game. Instead, there were a series of firefights, charges, and countercharges that served to delay the main attack from fully developing.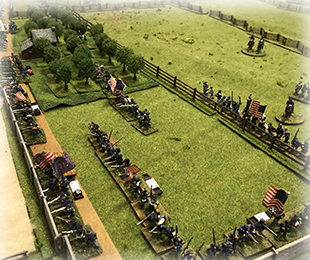 When we had to call it quits there were probably still another 2-3 turns that could have seen the battle end as a victory for either side. Both sides had suffered quite a few casualties and commands were pretty jumbled after all of the faltering and retreating. Overall, it was a brutal slugfest that could have gone on longer, but we ran out of time. While we had a few problems with the rules (nothing major), we felt they did warrant a second playing.
The Friday Night Update is sponsored by Trenchworx.