TSATF: Relief of a Besieged Force
Bengal Lancer Squadron's Heroic Charge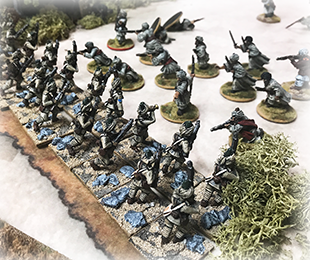 It's been a long, long time between TSATF games, so once again it was back to the Northwest Frontier. For this scenario, a British-Indian force was moving up to releive a trapped garrison. Upon seeing the number of Pathans coming out of the pass, the British decide it would be better to save the garrison, then have everyone withdraw to safety. It was going to be a close run thing and a fierce battle, except for one thing; a single squadron of Bengal Lancers. This squadron marched out in advance to give the other British and Indian units time to deploy and attack, then charged right into a hornet's nest. Despite being shot at for several turns, surrounded, and charged, this squadron fought valiantly for three straight turns, holding up several Pathan units during that critical time.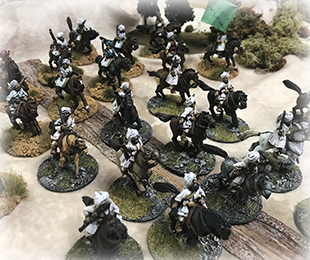 By the time they were eventually down to two men and left the field, the damage had been done. The remaining Pathans hurried to the scene of the action, but the British and Indians had defeated the Pathan tribe on the other flank and saved the garrison. A lot of fun, lots of casualties on both sides, and weirdness as usual with TSATF, especially the events which kept targeting the Pathan side!
The Friday Night Update is sponsored by Trenchworx.