WMA: Seleucids Try for 2 in a Row
Slow Start, Then Seleucids Regroup & Win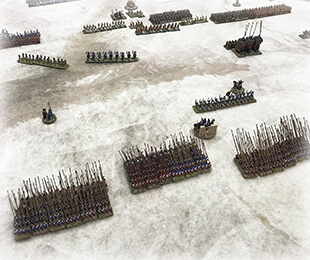 The Seleucids rarely, if ever, win twice in a row! This is usually due to the wide variety of units they have, the ever changing army lists, and the uncertainty in knowing what the various units will do from turn to turn! We had a few new players this time, so WMA is pretty easy to set up and teach, so we went with forces that could hold at least 5-6 players. The Romans started out strong and about halfway through turn 4 the Seleucids were not doing too well. Failed command rolls, ineffective shooting, etc., had the Seleucid forces looking at yet another defeat at the hands of the hated Romans. Turn 5, however, was all that was needed to turn things around. The elephants charged into the Romans while the Seleucid cavalry threw itself with abandon at the legions, causing a lot of casualties.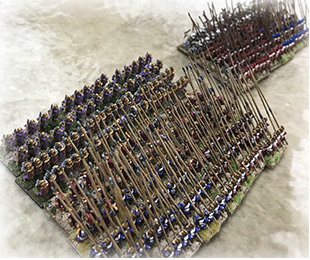 The Romans counterattacked, but due to some really bad die rolls, ended up helping the Seleucids! By the end of Turn 6, the Romans were in trouble, so the Seleucids pressed the issue, attacking all along the line. The Seleucids launched several attacks, pushing the Romans over their break point, then holding on to prevent a tie on the final turn. A really good battle and slightly longer than usual.
The Friday Night Update is sponsored by Trenchworx.