WMA: Seleucids Victorious
Seleucids Prevail in a Fast Paced Slugfest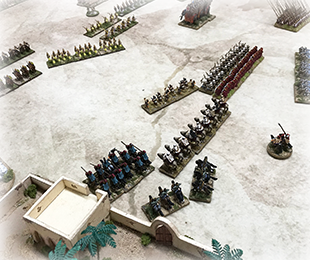 With a guest attending and needing to play at the local store, we decided to keep it simple and go with a WMA battle. WMA is easy to teach, we know the rules, and you can get a large game in under 4 hours, so this was a good choice. We used 2,000 point armies on a 6 x 4 table and started 20cm from the edges, so this would be a fast moving game with early contact, or so we thought! Actually, because of bad command rolls it took far more turns than we originally thought to get the main units in contact. Finally, the Seleucid cavalry came into play on both flanks in a bloody series of attacks and counterattacks. The Seleucid elephants died to the last animal, but inflicted horrific losses on several Roman units, enabling the Seleucids to take an early lead in break points.
The Seleucid pike and Roman legions then began to grind things out in the center while on the flanks the skirmishers and auxiliaries began to get into the action. By turn 8 there were a lot of casualties on both sides, but the Seleucids were doing better than usual. A few more turns of combat and the Romans finally broke, with the Seleucids winning by only losing 6 units compared to the Romans 12 (excluding skirmish units.)

The Friday Night Update is sponsored by Trenchworx.