BFE2: Sudanese Save The Day!
Desperate Action Across The Board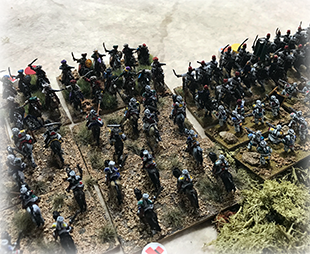 Back to the early Sudan campaigns where an overzealous garrison commander got more than he bargained for! Ordering an attack against a Mahdist artillery piece that has been harassing the town, he ran straight into a huge Mahdist attack. There was also a withdrawal of civilians, plus the fort was undermanned! Fortunately, the governer general of the province returned with some much needed cavalry support. The Sudanese units in the center who were launching the attack quickly fell back and stood as a bulwark against the tide of Mahdists pouring down from the hills.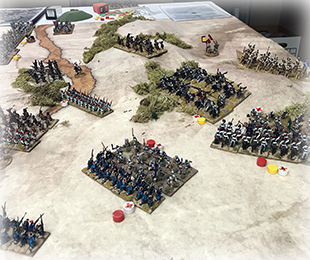 There were numerous charges, counterattacks, desperate actions, and more throughout the battle. The attack on the fort was nerve wracking for both sides as the Egyptian side barely held on. The Mahdists put pressure on three sides, but the Egyptians, Sudanese, Bashi-Bazouks, and town militia were able to just thwart the attacks each time a crisis popped up! In the end the Egyptian side hung on for a victory, but the casualty count was pretty high for both sides. Several times the Mahdists almost took one of the victory objectives, but just fell short. One of our better BFE 2 games and we'll have to do this again soon.
The Friday Night Update is sponsored by Trenchworx.